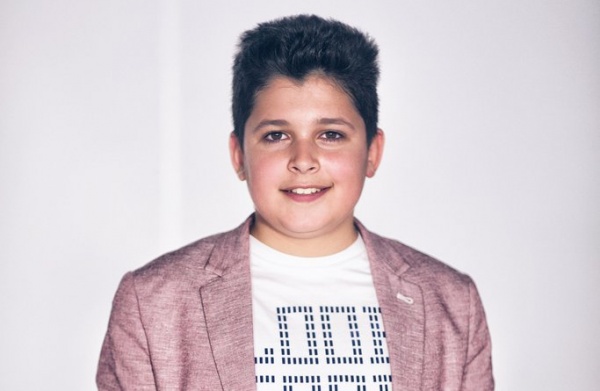 Ruslan Aslanov has just been selected as the 2015 Junior Eurovision Song Contest representative from Belarus.
They beat off competition from 9 other singers to win tonight's selection which was held in Minsk, in Bulgaria they will sing "Volshebstvo". The winner was selected by 50% televote and 50% jury vote. Belarus joins Albania in now having selected both their singer and song for the competition in November.
Ruslan had already gained fame in Belarus before participating in this years selection process, he made it to the final of The Voice Kids in Ukraine but missed out on winning the competition. He said after missing out on winning the Voice Kids that he would not give up on music.
Past Belarussian Junior Eurovision participants performed during the show they were Nadezhda Misyakova, Yahor Vauchok, Alina Molosh and Egor Zheshko. Nadezhda Misyakova and Uzari who represented Belarus at Eurovision 2015 performed a duet together, Uzari had written Nadezhda's Junior Eurovision entry in 2014.
The running order was as follows (televote, jury, total):
01 – Elizaveta Kozak & Elena Tovstik – "Pozitivniy mir" – 7 – 1 – 8 points – 8th
02 – Neskuchniy Vozrast – "Dazhe yesli ty ne muzykant" – 4 – 10 – 14 points- 2nd
03 – Angelina Vasilevskaya – "Ty pover v mechtu" – 3 – 2 – 5 points – 10th
04 – Maria Novik – "Shag za shagom" – 8 – 6 – 14 points – 3rd
05 – Zaranak – "Zhizn' Preksana" – 2 – 7 – 9 points – 7th
06 – Aleksander Makhankov – "Samiye krasivie" – 1 – 4 – 5 points – 9th
07 – Maria Magilinaya – "Taynu priotkryt" – 6 – 5 – 11 points – 6th
08 – Ruslan Aslanov – "Volshebstvo" – 12 – 12 – 24 points – 1st
09 – Elizaveta Muravyova – "Letutsennaya" – 10 – 3- 13 points – 5th
10 – Zinaida Kupriyanovich – "Mir" – 5 – 8 – 13 points – 4th
Watch the winning performance below:
https://www.youtube.com/watch?v=zErZq5qHzGg&feature=youtu.be