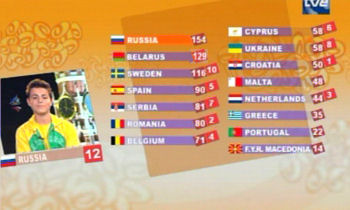 Every year you may notice that at the start of the announcement of the votes that each country is given 12 points by the EBU. Last year we saw Australia give 12 points to each country, as you can see below at the start of this video clip:
Now you may be wondering why these 12 points are given and whether it has always been a part of the contest. Well giving each country 12 points at the start of the voting was brought in to the contest in 2005. These 12 points are given out at the start so that there is less pressure on the children taking part during the voting, getting 12 points is the icing on the cake for every child taking part.
In the 2003 contest the 1st JESC ever we saw Poland finish with just 3 points and Sweden on just 12. Then in 2004 we saw six countries finish with 12 points or less, these were Poland, Latvia, Switzerland, Norway, Sweden and Belarus. Since then the lowest score recorded for an entry was Macedonia in 2006 when they received just 2 points from Romania but ended with a score of 14 points thanks to the 12 points from the EBU.