Never forget where you come from: that's the message from Jonida Maliqi, Albania's representative for the Eurovision Song Contest 2019.
Eurovoix got the chance to speak with Jonida right before the show at Eurovision in Concert last Saturday, April 6 at the AFAS Live concert hall in Amsterdam. We got to have a quick chat about her favorite Eurovision memories, her favorite things about Albania, and the message of her song "Ktheju tokës".
Jonida said that she grew up watching Eurovision. Her fondest memories were watching entries from when she was a young girl.
"I grew up with the Eurovision Song Contest," she said. "I remember Toto Cotugno, when he won. I remember ABBA. I remember…"
At this point, she starts singing a bit of "Kan" by Duo Katz from Eurovision 1991.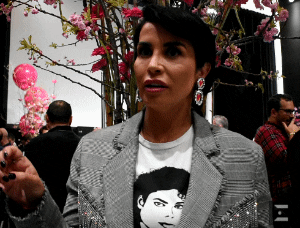 "Vintage songs!" she laughs.
Jonida certainly gives her fans a lot of credit for making her Eurovision experience a good one. She had participated in the Albanian song festival Festivali i Këngës, now also their Eurovision selection, three times. In 1999, she took second place with the song "Do jetoj pa ty," and she took third place in 2004 with "Frikem se më pëlqen". She finally won the entire show in December last year, giving her the chance to represent her country at the Eurovision Song Contest. Even with many more multiple awards spanning her career, Jonida still loves interacting with her fans.
"Now I am part of Eurovision and my dreams come true," she said. "It's very important for me to be in the fans' area. So many people around the world, they write to me all the time, they push me with good energy. I feel it, and I'm so thankful for every moment since I won Festivali i Këngës."
She also spoke a bit about her country, Albania, and invites her international fans to come visit.
"It's a small country, but we have kind people, beautiful nature," she said. "We have the mountains and the sea. We have very good food. We are powerful. We love to live life with good moments. We have a very good history."
Jonida loves her homeland, which is reflected in her song "Ktheju tokës". The song, whose title translates to "return to your land," is a dramatic ballad with a powerful message.
"My song Ktheju tokës is about immigration, and about returning to your homeland," Jonida said.
But it's not just about physically returning to one's home country.
"You go to another place to live a better life because the circumstances are different," she said. "But don't forget yourself, your family, your roots, your blood, your earth, your identity. This is not just personal, but it's also a global issue."
Jonida will perform her song "Ktheju tokës" in the second semi-final of the Eurovision Song Contest 2019 in Tel Aviv on May 16. She is one of 18 acts that night vying for 10 slots to the grand final.
Thank you very much to Jonida, the Albanian delegation, and to the organizers of Eurovision in Concert for making this interview possible.
Albania made their debut at the Eurovision Song Contest back in 2004, the same year the televised semi final was originally introduced to the competition. Albania succeeded in their first showing with Anjeza Shahini's "The Image of You", sailing through the semi final in 4th place and eventually landing in a respectable 7th place at the grand final. Albania have competed in the Eurovision Song Contest every single year since their debut, making 2018 their 15th appearance. Since the success in their original attempt, they have reach the grand final a further six times. They bettered their 2004 score in 2012 with Rona Nishliu's song "Suus" who finished the contest in fifth place with 146 Points, their first time reaching the top 5 and their best placing to date.