Ahead of the Turkvizyon Song Contest 2014 we caught up this years participant from Bosnia & Herzegovina Mensur Salkić, who will be singing "Šutim" in Kazan.
First off thank you very much to talking to us, we are just a couple of weeks away from Turkvizyon, how are you feeling?
Thank you for contact(ing) me. We are just a couple of weeks away from Turkvysion. I look forward to such life experience.
Now you were selected internally by Hayat TV, what did you say when you were asked if you wanted to do Turkvizyon?
When I was selected to represent Bosnia and Herzegovina, I was more than thrilled. I have watched the last year contest in Eskisehir, but I have never dreamed that I could get that honor and pleasure to represent my country on such prestigious competition.
How does it feel for you to be representing Bosnia & Herzegovina in front of viewers from over 20 countries?
It is a great responsibility to represent your own country, whether in the field of music, sport or any other. I wish, with all my heart, to represent BiH in the best possible way and I will do my best to do it.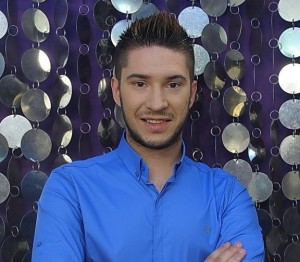 Your song is called "Sutim", can you tell us more about it?
I represent Bosnia and Herzegovina with the song "Silence," written by famous Bosnian and Herzegovinian author Eldin Huseinbegović. The song has a wonderful text, rich arrangement and it is very energetic.
What can we expect from your performance in Kazan?
With our performance we hope to win the audience and the jury.
Last year Bosnia & Herzegovina were represented by Emir & Frozen Camels, they qualified for the final and finished joint 6th, does that add pressure for you to make it to the final?
Sure, the last year representatives won enviable results. Certainly, they set me the standard. I'm kidding, of course, but this song and the video for this song, where we are showing the beaty of our country, will leave nobody indifferent.
What plans do you have for after Turkvizyon?
I will continue to work on my album after Turkvysion. I am going into the studio to record new songs..
Finally do you have anything you'd like to say to your fans and the readers of Eurovoix.com?
Thank you and I would like to say hello to my fans and readers of Eurovix.com. Stay with us and support Bosnia and Herzegovina on November 19 and 21, 2014.
Thank you very much for your time and all the best for the future.
You can watch the official music video for Bosnia & Herzegovina's Turkvizyon entry "Šutim" below: